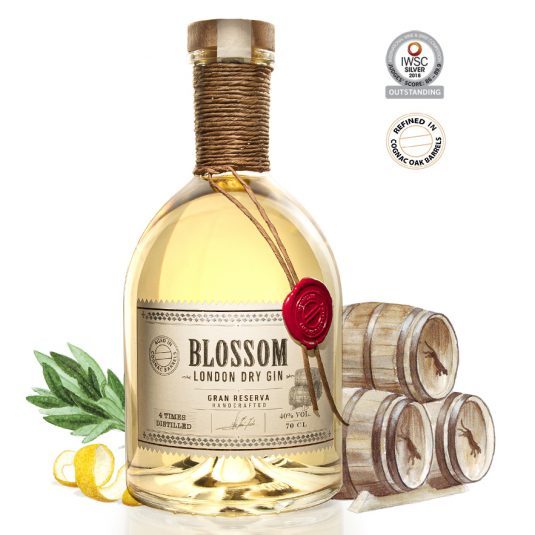 BLOSSOM
GIN
GRAN RESERVA
Blossom, premium and authentic gin inspired by the natural park of Sierra Mariola and the bloom of spanish ochards, is made in alcoy (Costa Blanca) according to a craftsman-inspired method. The distillation is made from small
batches of 250 litres in a traditional copper still. Produced from high quality spanish grain alcohol, Blossom Gran Reserva is four times distilled to offer freshness and aromatic intensity.
Blossom Gran Reserva is the result of the outsanding cooperation between Blossom and Meukow cognacs. Founded in 1862, Meukow House is the legacy of a 150 years of heritage dedicated to the respect of traditions, the savoir-faire transmission and the innovation spirit. After the 7 botanicals bi-distillation according to the traditional method, the gin is moved into old cognac barrels from the Meulow House. Aged out of sight, the gin takes full advantage of the wood enriched of the cognac aromas. While its colour becomes pale gold with bright reflects, it develops subtle woody notes with an extreme finesse. Macerated fresh lemon zests sublimate the fresh and intense character of citrus aromas.
Nose : Delicate juniper notes combined to subtle oak aromas enhanced by a
citrus note. 
Mouth : Perfect combination of juniper aromas, lemon and subtle
woody hints.
Judges Tasting Notes : "Very perfumed and aromatic nose with the juniper in the background. Plenty of dark cocoa powder, pralines, and chocolate oranges. Very complex and we'd definitely call it a sipping gin. The cognac like aromas and palate is greatly supported by a long juniper lead finish at the end."
750 ml - 40% Alc/Vol